Autumn is a magical season, with its crisp air, vibrant foliage, and the promise of cozy evenings by the fire. As the days grow shorter and the leaves change colors, it's the ideal time to transform your front walk into a welcoming and enchanting space that captures the essence of fall. In this blog post, we'll explore how you can beautify your show walk for fall, with a particular focus on the entry door as the centerpiece.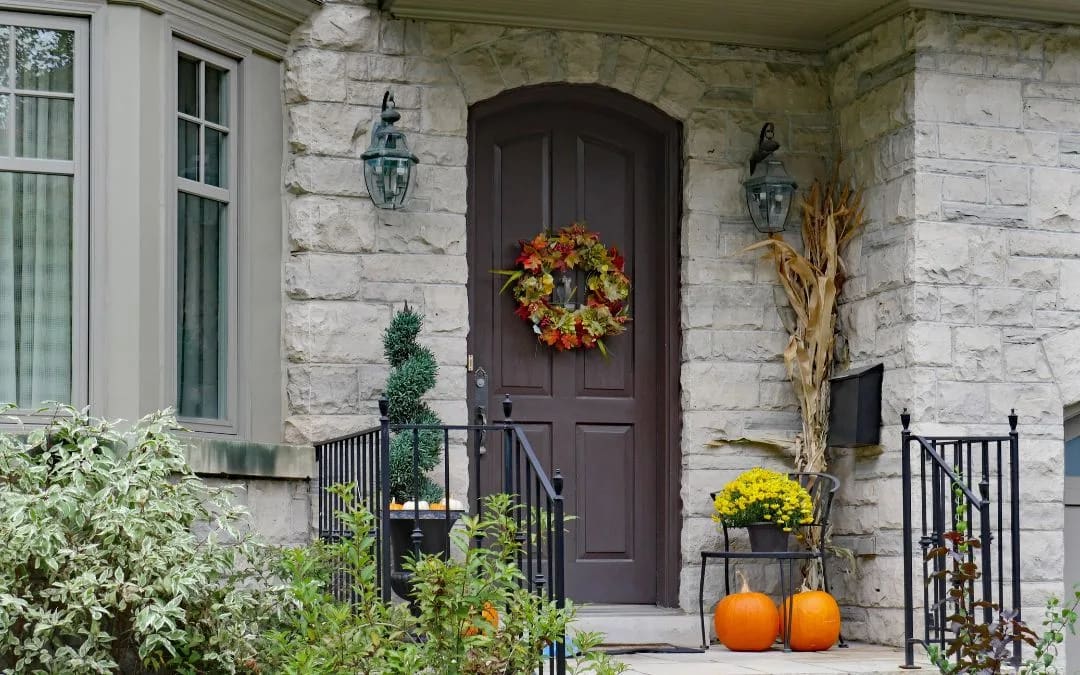 The Significance of Your Entry Door
Your entry door is more than just a functional element of your home; it's a statement piece that can significantly impact your home's curb appeal. It's the first thing guests notice when they arrive, setting the tone for the rest of your property. To beautify your front walk for fall, start by giving your entry door the attention it deserves.
Here are three essential aspects to consider:
1. Selecting the Right Entry Door for Fall
Choosing the perfect entry door is the foundation of your front walk's fall transformation. Consider various door materials and their suitability for the season.
Wooden Entry Doors: Wooden doors, especially those made from rich, warm woods like mahogany or cherry, offer a timeless and inviting look that harmonizes perfectly with the fall aesthetic. Wood's natural grain and warmth can complement the season's changing colors.

Fiberglass Entry Doors: Fiberglass doors are known for their durability and versatility. They can be designed to mimic the look of wood, allowing you to achieve a warm and inviting appearance without the maintenance requirements of natural wood.

Steel Entry Doors: Steel doors are known for their strength and security. While they may not have the natural warmth of wood, you can choose a steel door with a decorative finish that adds character to your home's exterior.
2. Embrace Seasonal Color Choices
The color of your entry door can be crucial in enhancing your front walk's fall curb appeal.
Vibrant Reds: Deep, rich reds can evoke the warmth and coziness of fall. A red entry door can stand out beautifully against the backdrop of autumn foliage.

Warm Oranges: Burnt orange hues bring a touch of fall's pumpkin spice to your doorstep. An orange door can add a playful and inviting vibe to your front walk.

Earthy Greens: Deep green doors can mimic the shades of evergreen trees and the changing leaves. They blend seamlessly with the natural beauty of fall.
3. Adding Seasonal Decor to Your Entry Door
Your entry door is a canvas for seasonal creativity. Use it to showcase your love for fall with thoughtful decorations.
Fall-inspired Wreaths and Garlands: Hang a fall-themed wreath on your entry door. Consider using materials like dried leaves, pinecones, and miniature pumpkins to create a charming display. Drape garlands along the handrails or columns leading up to your entryway for a cohesive look.

Glass Inserts with Fall Motifs: Consider those with fall-inspired designs like leaves or acorns if your entry door has glass inserts. These decorative elements allow natural light to filter through while adding elegance and seasonal flair to your home's entrance.

Personalized Fall Door Decor: Get creative and personalize your fall decor. Craft your own wreath or door hanger with family names, seasonal messages, or monograms to give your front walk a unique touch.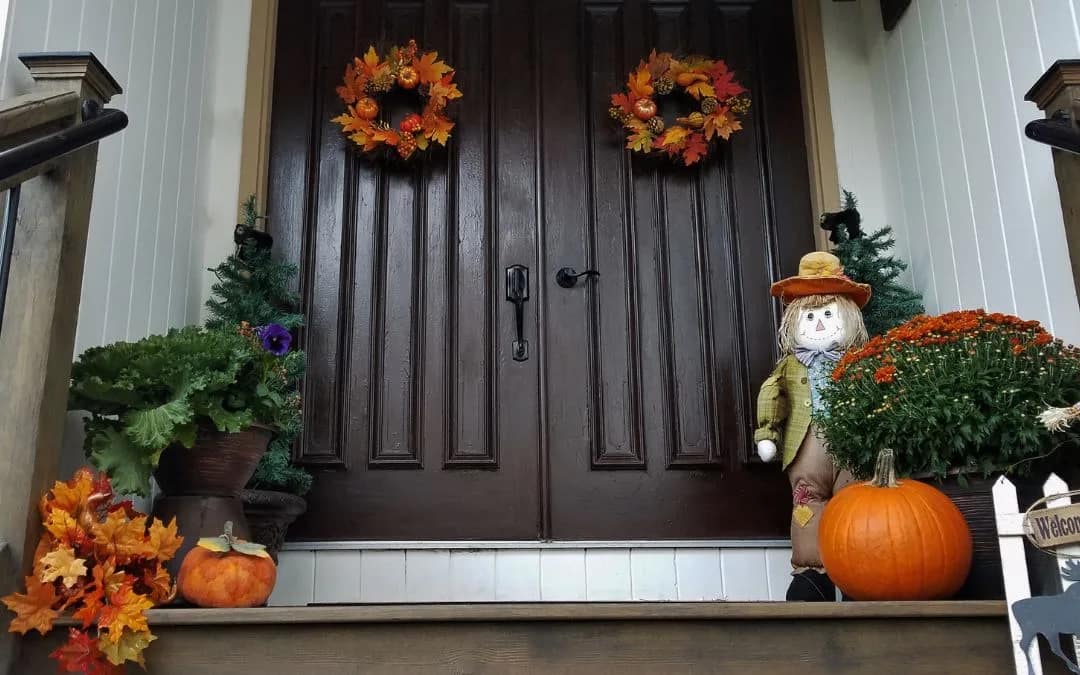 Creating a Welcoming Pathway
Beautifying your front walk for fall goes beyond just the entry door. The entire pathway to your home should be designed to welcome and impress.
1. Outdoor Lighting
Outdoor lighting serves a dual purpose: it enhances the aesthetics of your front walk and provides safety during the darker fall evenings.
Pathway Lights: Line your front walk with pathway lights. Opt for warm, soft lighting fixtures to create a cozy and inviting ambiance. These lights guide visitors safely to your entry door while highlighting the fall foliage.

Pendant Lights: Install pendant lights above your entry door. Pendant lights create a warm and inviting glow that can be customized to suit your fall decor theme. Choose fixtures with designs that complement your overall aesthetic.

Candle Lanterns: For a touch of enchantment, place candle lanterns on steps, handrails, or on either side of your entry door. The flickering candlelight adds a captivating and intimate atmosphere to your front walk.
2. Fall-themed Landscaping
Your landscaping choices can significantly enhance the beauty of your front walk in the fall.
Native Plants and Shrubs: Incorporate native plants and shrubs that display vibrant fall colors into your front walk's landscaping. Options like chrysanthemums, marigolds, and ornamental kale thrive in cooler temperatures and offer stunning fall-inspired hues.

Regular Maintenance: Create a schedule to ensure your front walk maintains fall beauty throughout the season. This might include weekly leaf removal, bi-weekly plant care, monthly cleaning, and light bulb replacement for outdoor lighting.

Sustainable Landscaping: Consider adopting sustainable landscaping practices. By planting native species and reducing water consumption, you can maintain a beautiful front walk while minimizing environmental impact.
3. Adding Seasonal Decor to Your Front Walk
Incorporate seasonal decor along your front walk to complete the fall transformation.
Potted Plants and Flowers: Place potted chrysanthemums, marigolds, or ornamental kale near your entryway. These hardy plants thrive in cooler temperatures and are available in various fall-inspired colors. Choose decorative pots that complement your front walk's aesthetic.

Pumpkin Displays: Create an eye-catching pumpkin display by arranging pumpkins of different sizes and colors along your front walk. You can carve or paint them to add a personal touch. Mix gourds, hay bales, and cornstalks for added texture and charm.

Fall-themed Doormats and Rugs: Swap out your regular doormat for one that features fall-themed designs or colors. Alternatively, layer a decorative outdoor rug over your existing doormat to add a touch of warmth and style to your entryway.
Maintaining Fall Beauty
Regular maintenance is critical to maintain your front walk's enchanting fall beauty.
Regular Cleaning: Keep your front walk free from leaves, debris, and any hazards that could make it less welcoming. Regularly sweep and power wash the area to maintain its fresh appearance.

Inspect and Repair: Regularly check the condition of your entry door, pathway lights, and other decor elements. Address any issues promptly to ensure they continue to enhance your front walk's beauty.

Pruning and Plant Care: Maintain your landscaping by pruning and caring for plants and shrubs. Remove dead or withered foliage to keep your front walk looking its best.

Lighting Maintenance: Replace any burned-out bulbs in your outdoor lighting fixtures promptly to maintain a warm and inviting atmosphere.
In Conclusion
You can transform your front walk into a captivating fall wonderland by carefully considering your entry door and the surrounding elements. With thoughtful fall-themed decor, lighting, and landscaping, the right entry door will make your home's exterior a cozy and inviting space that welcomes you and your guests.
Embrace the beauty of fall and let your front walk shine.
Are you ready to change up your entry door?
If you are considering a new entry door for your home, contact Window Depot of Annapolis today or call (410) 883-5235.  Window Depot of Annapolis's professional installers can help you to determine which style is best for your home and give new life to the front of your home today.  Don't wait. Give us a call for a free quote today!